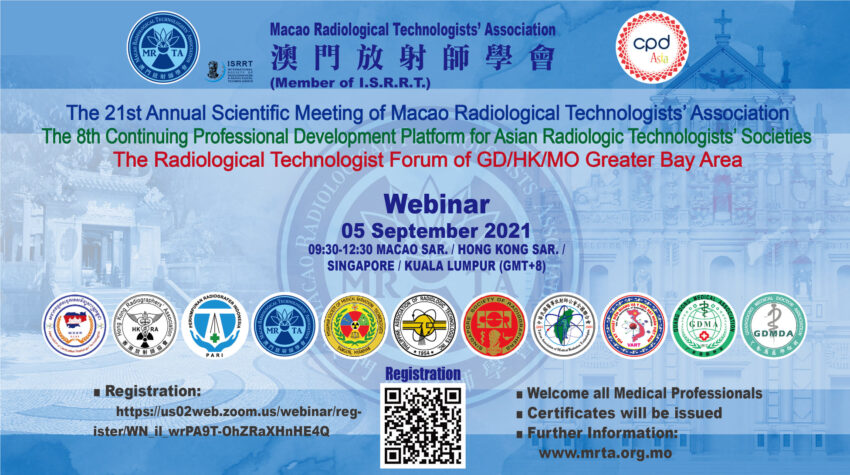 [Open Registration Webinar]
The 21st Annual Scientific Meeting of Macao Radiological Technologists' Association
The 8th Online Continuing Professional Development Platform for Asian Radiologic Technologist's Societies (8th CPD ASIA)
The Radiological Technologist Forum of GD/HK/MO Greater Bay Area
Hosted by: Macao Radiologic Technologist Association (MRTA)
Date; Sunday, 5 September 2021,
Time:
08:30 – 11:30 WIB – Jakarta, (GMT +7)
09:30-12:30 WITA, Macao SAR/Hong Kong SAR (GMT+8)
Registration: https://us02web.zoom.us/webinar/register/WN_il_wrPA9T-OhZRaXHnHE4Q
Opening Speech: President MRTA – Mr. Fernando Kok
Host: Edwin Ao
Panelist: Fernando L.K.Kok, Thai Van Loc, Giek Sugiyanto, Nelson Wan, Denise Choong, Peachy Luna, Chun Yuan Tu, Sophea Ly, jun Hui Zheng, Kang Zhuang.
Speaker:
Ms. Cora NG – MRTA "Brief Introduction of the Radiation Safety Management in Public Hospital in Macao
Mr. Ximing Cao, Guangdong General Hospital, China "Study of Enhancement of Coronary Artery in Computed Tomography Angiography by Adaptive Prospective ECG Gating in Patients with Frequent Premature Beat"
Mr. Dragon Hong Lung Liu – Hong kong radiographers Association, China. "Advanced Radiotherapy Technique – Exactrac Dynamic"
Mr. Bing Hu – The third Affiliated Hospital of Sun Yat-Sen University, China. "Evaluation of MR Elastography for Prediction of Lymph Node Metastasis in Prostate Cancer"
Mr. Jerry Kai Hong Lei – MRTA, China "Discussion of Frontline Radiation Protection Technique During Interventional procedure in Macau Hospital"
Note:
-This online CPD Course will be conducted by using the Zoom Video Conferencing.
-For registration please follow link above and fill out the registration form. Link to access the video conferencing will send via Email.
-All fees (include certification) for this event are waived. Welcome all Medical Professional to participate.
-A Continuing medical education certificate will be issued after the course.