On 18th to 20th October, 2018, the Indonesian Society of Radiographers (known as PARI, Perhimpunan Radiografer Indonesia) hosted the 5th South East Asia Radiographer and Radiological Technologist Conference (SEARC) at Ungasan Bayview Hotel and Convention Center, Badung Regency, Province of Bali, Indonesia.
It was such a great honour for Indonesian Society of Radiographers to be given the opportunity to host this tremendous event. Such a great moment for Indonesian Radiographers to meet overseas fellow and collagues, so that they could share experience and knowledge to each other.
The Conference theme is "Collaboration Towards Exellence" focusing on Neurovascular Imaging and Therapy Foundation, Application, and Technical Consideration in Multi Modalities
More than 500 radiographers from south east Asia and neighbouring countries and societies attended this 3-days event. Including international participants from 15 countries (Indonesia, Malaysia, Singapore, Vietnam, Thailand, Philippines, Myanmar, Timor Leste, Japan, India, Hongkong, Taiwan, Macao, Kuwait and Australia).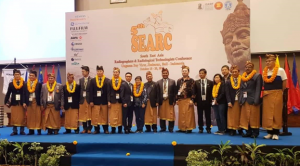 Pic 1. All President and overseas Delegates using traditional Balinese Saput (sarongs) and Udeng (head band) before opening ceremony
This conference was packed with scientific meeting, paper presentation, seminars, symposium, and product exhibition, delivered by International experts, academic professionals, students, and health care companies product specialist and applicants technologist.
Opened by Bali Governor represented by the Head of Bali Province Ministry of Health (Dr. Ketut Suarjaya, MPPM). The opening ceremony run smooth with a message from Vice President International Society of Radiographers and Radiological Technologists (ISRRT) of Asia and Australasia, Dr Napapong Pongnapang and also welcoming speech form President of Indonesian Society of Radiographers (PARI) Mr. Sugiyanto S.Pd, M.App.Sc (MRI).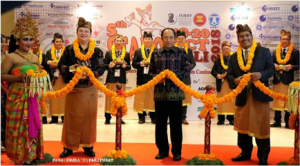 Pic 2. Exhibition opening ceremony, Mr. Sugiyanto, President of Indonesian Society of Radiographers (right) with Mr. Ketut Suarjaya (center) and Mr. Napapong (left) with all of Presidents and overseas Delegates
The first lecture was delivered by Dr. Samuel Tandionugroho Radiology Specialist straight after the opening ceremony, followed by Dr. Napapong Pongnapang.
The next day, Madam Tan Chek Wee and Professor Mark McEntee than gave lectures after the international forum session. On the International Forum, all President, overseas Delegates, and official boards delivered presentations about Radiographers Licensing, and Radiography and Therapist education system in their countries.
After the international forum, all Presidents and Delegates attended the Board Meeting to discuss about the next events and agendas, ended at lunch time.
After the friday Pray and 2nd Paper Presenter session, Paralel Symposiums were conduct with four main topics in 4 different meeting rooms. MRI and CT topics were held at Padang-padang meeting room, while Digital Radiography and Radiation therapy topics were held at Balangan Room until end of day.
Closing ceremony were started in the evening, with SEARC Memento Handover to Thailand for 6th SEARC at Bangkok next year on April 2019. Beside that, PARI scientific meeting flag banner were also handed from Bali to North Sumatrans Province for 7th scientific meeting in April 2019.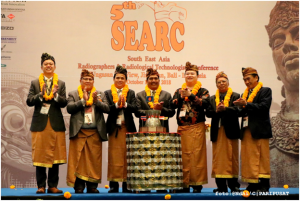 Pic 3. Presidents of Radiographers and Radiological Technologists Societies in Southeast Asia and Mr. Napapong with Insignia / Memento of SEARC
The 5th SEARC event was closed by Kecak Dance and Fire Dance Performance. Kecak was a traditional colosal dance performed by the Bali Radiographers. There were 30 dancers involved on this Kecak Dance performing a story of Ramayana Epic.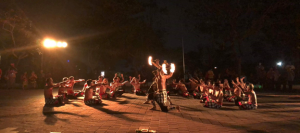 Pic 4. Kecak Dance at closing ceremony perform by Radiographers from Bali
On the last day, Saturday 20th October 2018, all participants joined a cultural visit to Garuda Wisnu Kencana, Tanah Lot Tempel and Umahsari Traditional Village. At the Umahsari Traditional Village all delegates were introduced to Balinese culture and way of life Balinese, including the lessons about how Balinese make Hinduism Offerings and foods, as well as the concept of Balinese houses and ceremonies. On the end of the day, all participants were taken to Jimbaran Sea Side Dinner, an intimate farewell candle light dinner at the beach with the view of Indian Ocean.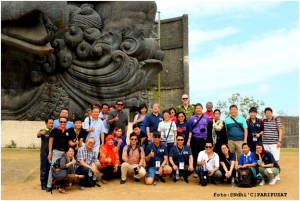 Pic 5. Presidents and international delegates take a photo group in Garuda Wisnu Kencana
We realise that the event would not be succesful conducted without the support from all delegates. Therefore, we earnestly thank to all presidents from Radiographers and Radiological Technologists association across Asia and neighbouring countries, with all of their boards, Delegates and Participant for coming to Bali and joining this event. See you all next time. (Reported by Putu Adi and Putu Irma).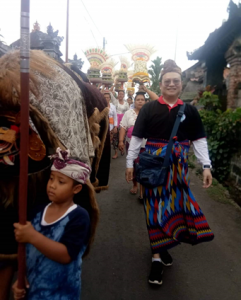 Pic 6. Dr. Napapong Pongnapang, Vice President ISRRT of Asia and Australasia joining the Barong Bangkung and Mepeed at Cultural Visit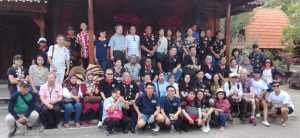 Pic 7. President and Delegates infront of traditional Balinese house at cultural visit to Umah Anyar Village.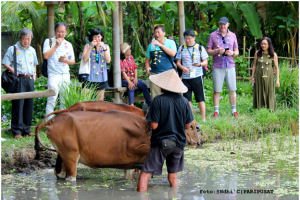 Pic 8. Presidents and international delegates visit Bali traditional village