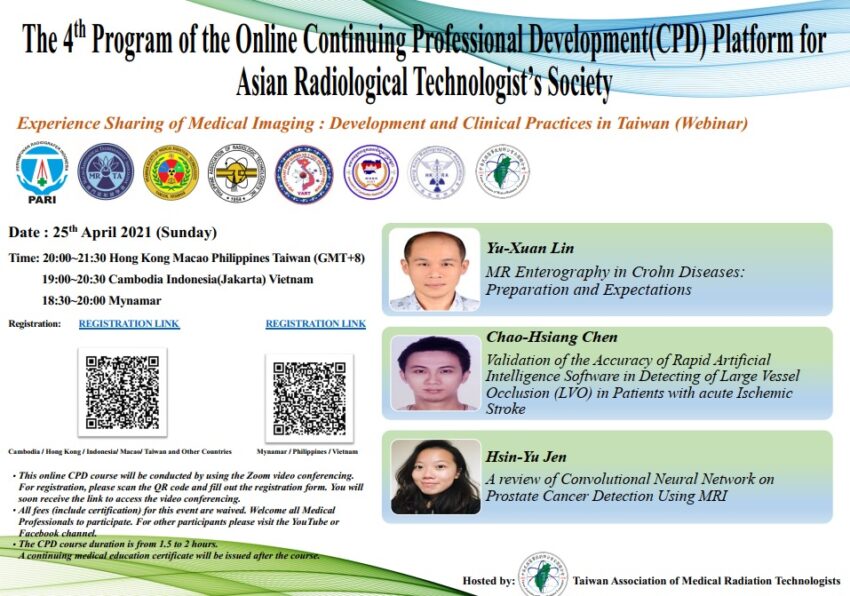 CPD ASIA April 2021
The 4th Program of the Online Continuing Professional Development (CPD) Platform for Asian Radiological Technologist's Society.
Experience Sharing of Medical Imaging: Development and Clinical Pratices in Taiwan (Webinar)
Hosted by: Taiwan Association of Medical Radiation Technologist (TAMRT)
Date: 25th April 2021 (Sunday)
Time:
19:00-20:30 PM Indonesia Jakarta (WIB), Vietnam
18:30-20:00 PM Myanmar
20:00-21:30 PM Macao, Philippines (GMT+8)
Registration: http://bit.ly/4thASIACPDRegistration
Speaker:
Yu-Xuan Lin – MR Enterography in Crohn Disease: Preparation and Expectations
Chao-hsiang Chen
Validation of the Accuracy of Rapid Artificial Intelligence Software in Detecting of Large Vessel Occlusion (LVO) in Patients with acute Ischemic Stroke
Hsin-Yu Jen
A Review of Convolutional Neural Network on Prostate Cancer Detection Using MRI
Note:
-This online CPD Course will be conducted by using the Zoom Video Conferencing.
-For registration please follow link above and fill out the registration form. You will soon receive the link to access the video conferencing.
-All fees (include certification) for this event are waived. Welcome all Medical Professional to participate. For other participant please visit the Youtube or Facebook Channel.
-The CPD Course duration is from 1,5 to 2 hours. A Continuing medical education certificate will be issued after the course.