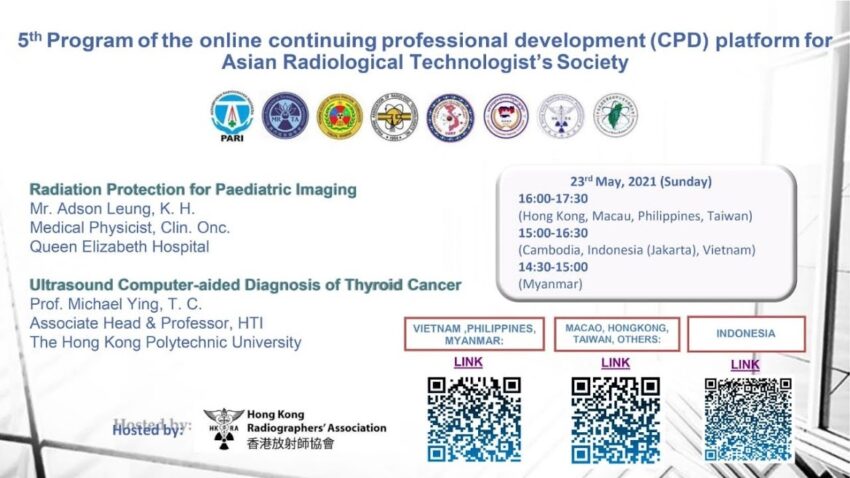 [Open Registration]
5th CPD ASIA May 2021
The 5th Program of the Online Continuing Professional Development (CPD) Platform for Asian Radiological Technologist's Society.
Hosted by:
Date: 23rd April 2021 (Sunday)
Time:
15:00-16:30 PM Indonesia Jakarta (WIB), Vietnam (GMT +7)
14:30-15:00 PM Myanmar
16:00-17:30 PM Hong Kong, Macao, Philippines (GMT+8)
Registration: http://bit.ly/5thASIACPDRegistration
Speaker:
Radiation Protection for Paediatric Imaging
Mr. Adson leung, K.H. – Medical Physicist, Clin. onc. – Queen Elizabeth Hospital
Ultrasound Computer-aided Diagnosis of Thyroid Cancer
Prof. Micahel Yong, T.C. – Associate Head & Professor, HTI – The hong Kong Polytechnic University
Note:
-This online CPD Course will be conducted by using the Zoom Video Conferencing.
-For registration please follow link above and fill out the registration form. You will soon receive the link to access the video conferencing.
-All fees (include certification) for this event are waived. Welcome all Medical Professional to participate.
-The CPD Course duration is from 1,5 to 2 hours. A Continuing medical education certificate will be issued after the course.