Monthly Archives:
September 2017
The technology of medical imaging has undergone a tremendous change si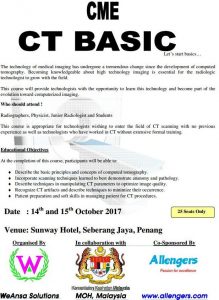 nce the development of computed tomography. Becoming knowledgeable about high technology imaging is essential for the radiologic technologist to grow with the field. This course will provide technologists with the opportunity to learn this technology and become part of the evolution toward computerized imaging.
Who should attend !
Radiographers, Physicist, Junior Radiologist and Students
This course is appropriate for technologists wishing to enter the field of CT scanning with no previous experience as well as technologists who have worked in CT without extensive formal training.
Educational Objectives At the completion of this course, participants will be able to: